Obsidian Feathers - Signed Edition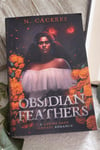 Please select the binding type you would like below.
If you would like a custom personalization or to request a Pack An Order With Me video you must order from a desktop and at check out add the order note to the purchase.
Some desires refuse to be denied...
Angie
My life has become anything but my own. The shiny rock, the sensible fiancé...and a forced "vacation" to El Salvador, courtesy of my insufferable boss.
But I play the game, for the sake of my mother's aristocratic aspirations, and for some peace.
Little did I know that El Salvador would lead me straight back to a wolfish grin — the one that has me dripping with desire, ready to leave it all and get lost in the jungle...
My instincts are telling me to run. And a single night's bad decision leads me to a group of cadejo filled with glittering magic, broad smiles and a twisted secret that will unweave everything I think I know about nightmares.
Sal
The girl with gold-flecked eyes thought I was joking when I pledged myself to her in that playground. But we were bound in accordance with totoco law — and twenty years later, my cadejo can wait no longer for the mating ceremony.
It's cute that she thinks she's marrying some snotty businessman — as if I'd let a man so unworthy of my Xochitl take her to bed every night.
No, now that I have her scent again the dance is over.
Whichever direction she runs, I'll be there. Whatever the cost.
Obsidian Feathers is a dual POV, Latine dark fantasy romance with lashings of kink, a possessive monstrous alphahole and a sassy, body positive FMC with a fresh twist on the familiar concept of werewolves.